Regular price
$33.95 USD
Sale price
$24.95 USD
Unit price
per
Sale
Sold out
NUETAG DARK SPOTS REMOVER:
2% HYDROQUINONE - Gradually fades spots, hyperpigmentation and melasma. The AHA acids gently peel dark spots to reveal brighter and lighter skin.
BRIGHTEN & EVEN SKIN TONE - the formula contains: Hydroquinone, Glycolic Acid (AHA), Kojic Acid, 4-butylresorcinol Lactic Acid (AHA) & Niacinamide.
CONTAINS THE HIGHEST concentration of Hydroquinone
of 2% which is allowed without a prescription plus Glycolic Acid to help to speed up cell turnover and boost collagen, Kojic acid helps lightening the skin, which can improve the appearance of age spots and sun damage.
NUETAG RETINOL CREAM:
MOISTURIZE & HYDRATE YOUR THIRSTY SKIN: Do not let your pretty face and skin dehydrate anymore. Keep it plump and supple with the ultimate active Retinol face moisturizer. Boost hydration levels, speed cell turnover, restore lost elasticity, and ensure long-lasting moisturizing all day long. Ideal for your face, eyes, neck, and décolletage.
REDUCES FINE LINES & SMOOTHES WRINKLES: Designed to please even your most demanding skincare needs, this Retinol moisturizer cream will work miracles on your skin. Apply day and night! Experience fine line and wrinkle reduction. Its powerful 2.5 % Active Retinol and Hyaluronic Acid combination ensures younger-looking skin.
Share
Ingredients

NUETAG DARK SPOT REMOVER: Water (Aqua), Isopropyl Palmitate, Caprylic/Capric Triglyceride, Cetearyl Alcohol Glyceryl Stearate, Hydroquinone, Propanediol, Glycolic Acid, Lactic Acid, Kojic Dipalmitate, 4-butylresorcinol, Sodium Hydroxide, Polyacrylate Crosspolymer-6, Niacinamide, Alanine Ferulic Acid, Butylene Glycol, Hydrogenated Lecithin, Sodium Oleate, Oligopeptide-68 Dipotassium, Glycyrrhizinate, Sodium Sulfate, Sodium Metabisulte, Tocopheryl Acetate, Dimethicone, PEG-40 Stearate, Disodium, EDTA, Xanthan Gum, Ethylhexylglycerin, Phenoxyethanol

RETINOL CREAM: Organic Aloe Vera, Organic Sunflower Oil, Palm Oil, Pentylene Glycol, Phospholipids, etinol,Polysorbate 20, PotassiumPhosphate, Vitamin E, Cassia Angustifolia Seed (Hyaluronic Acid), Glyceryl Stearate, Stearic Acid, KosherVegetable Glycerin, Organic Jojoba Oil, Wildcrafted Green Tea, Shea Butter, Panthenol (Vitamin B5), Phenoxyethanol, Ethylhexyl Glycerin, Xanthan Gum, Citric Acid.
How to use

NUETAG DARK SPOT REMOVER works perfectly for both
Men and Women of all skin types :

1. Use 1-2 drops DAY and NIGHT and apply to your
skin concern or all over the face.
2. Apply your moisturizer on top of our Serum in
order to secure the product deeply in Epidermis
3. VERY IMPORTANT: Wear SPF and UV protection
every day, especially when you are outside

NUETAG RETINOL CREAM can be applied to the entire face twice a day, morning and night, after your Serum.

We also recommend our branded NueTag Spot Remover which can find in our Shop. The Serum can also be applied to help reduce visible discolorations and fight hyperpigmentation on the face, neck, and chest.

Use and apply sunscreen or any SPF protection during the daytime when going out, in the car, or outdoors.

NOTE - For external use only. Keep out of the reach of children. If direct contact with eyes occurs, rinse well with cold water.
View full details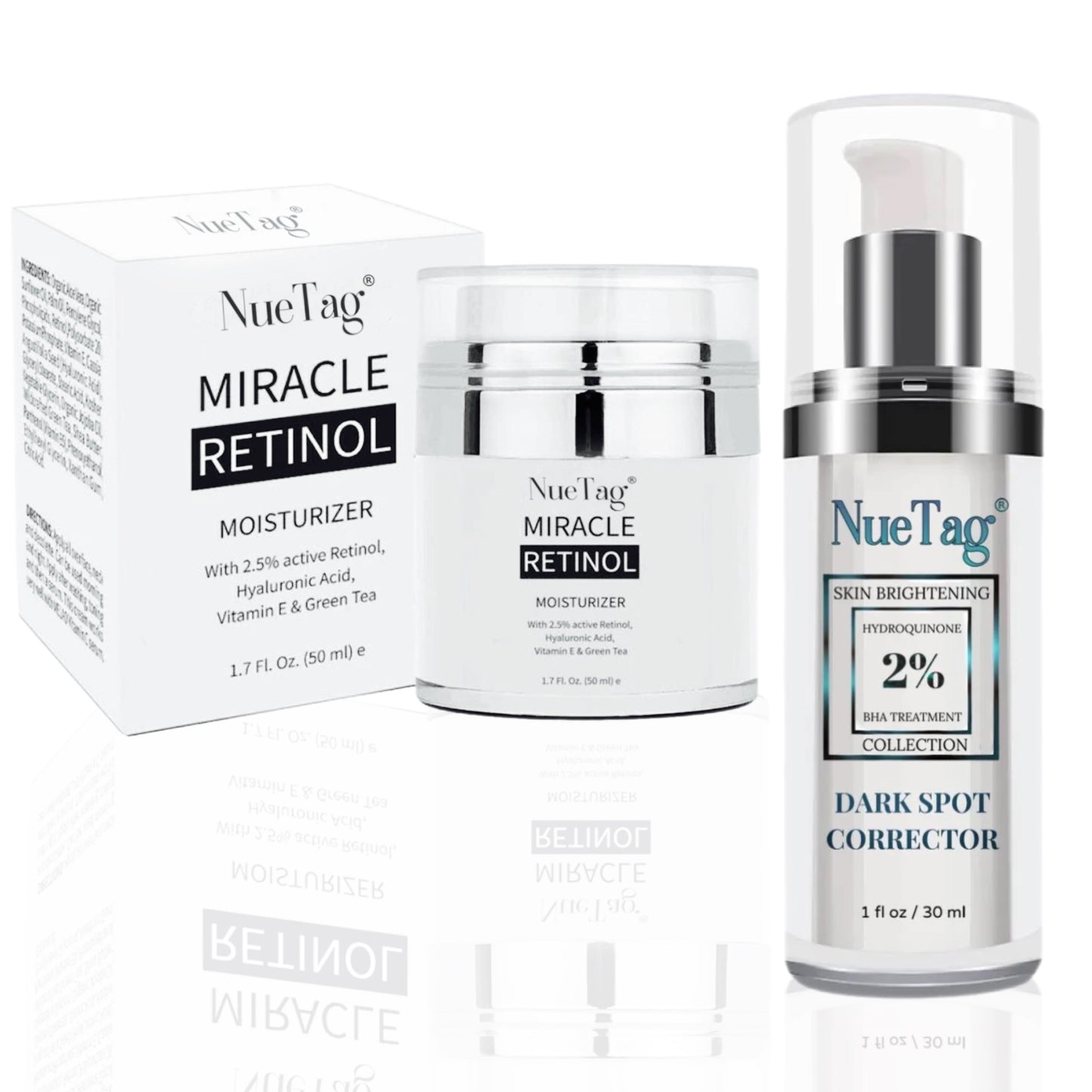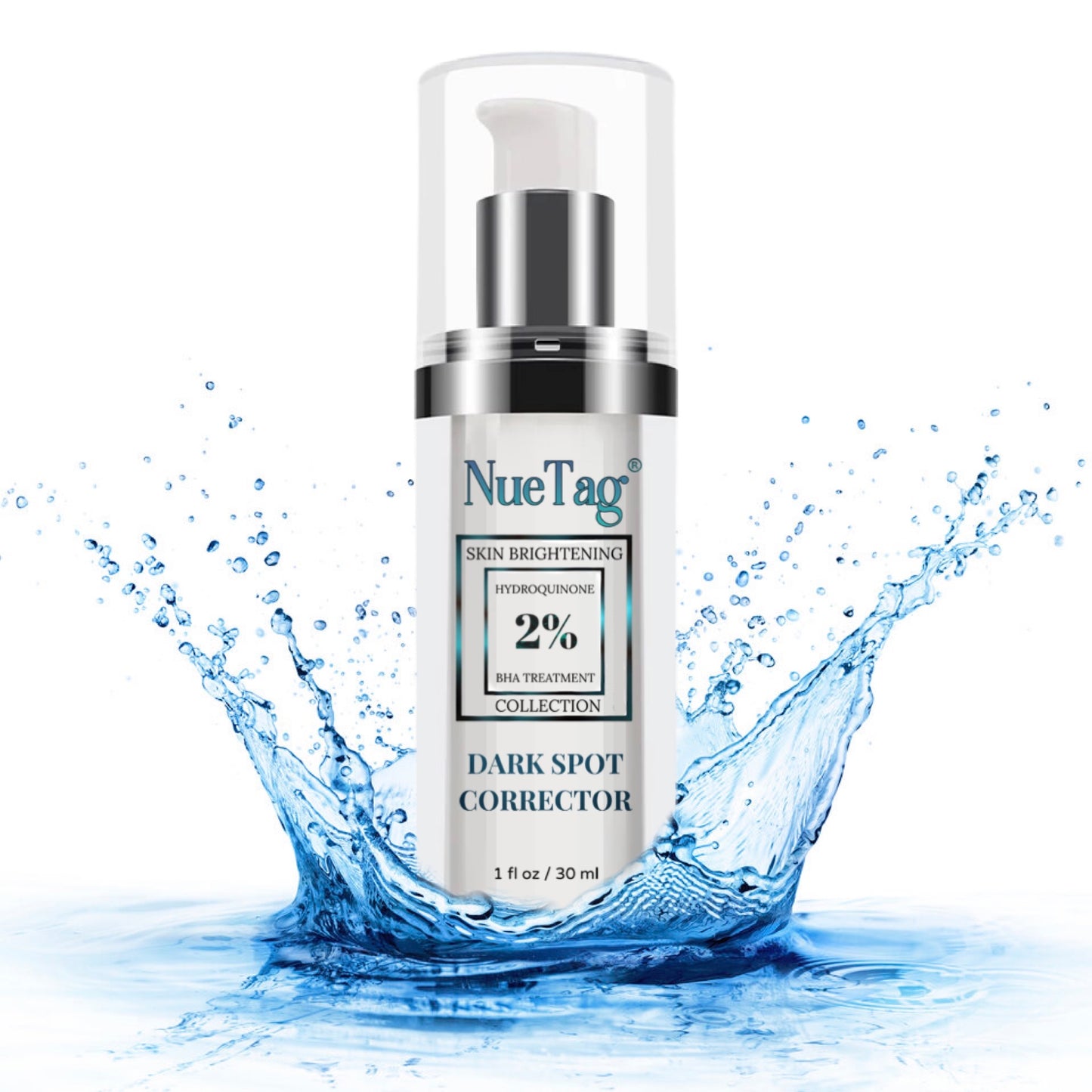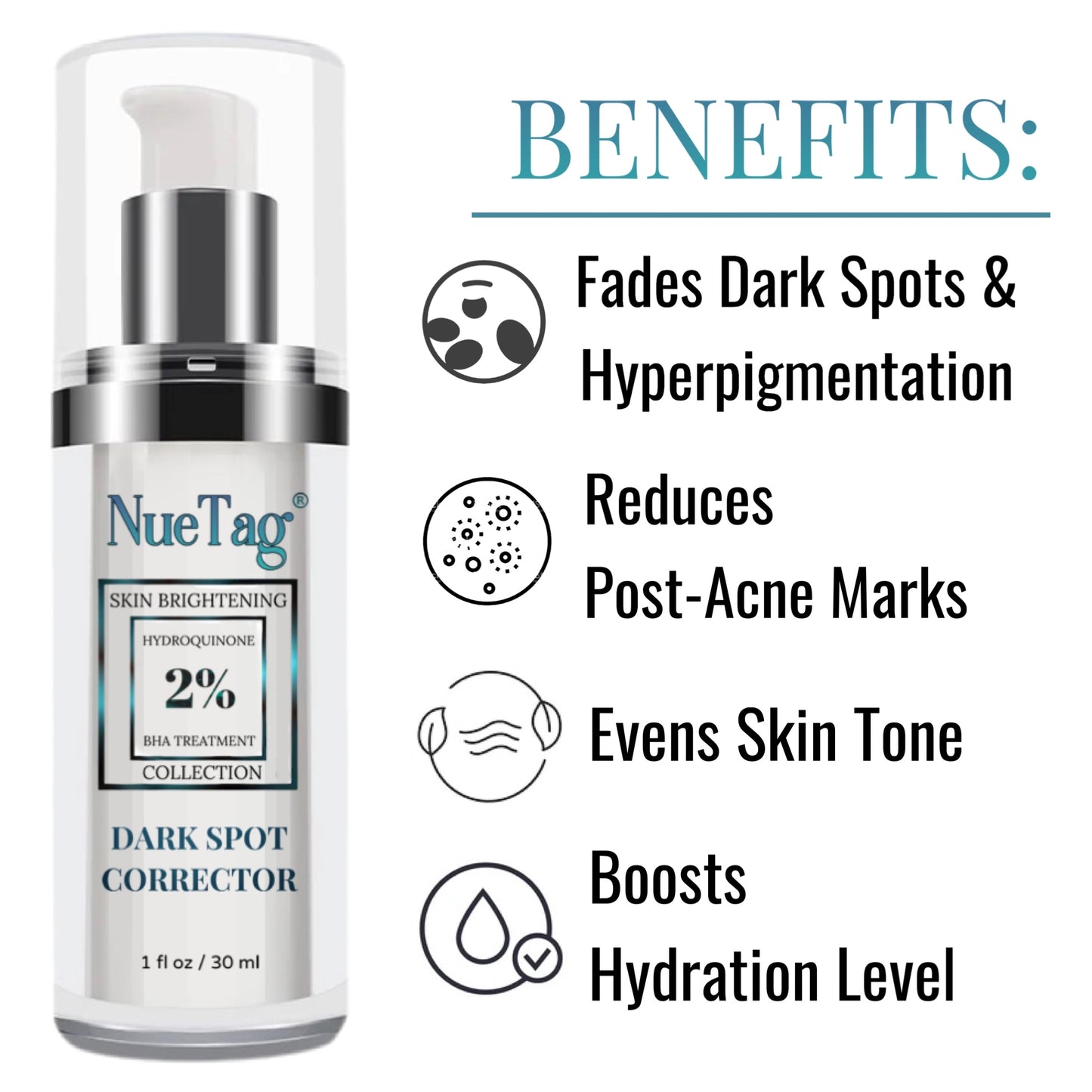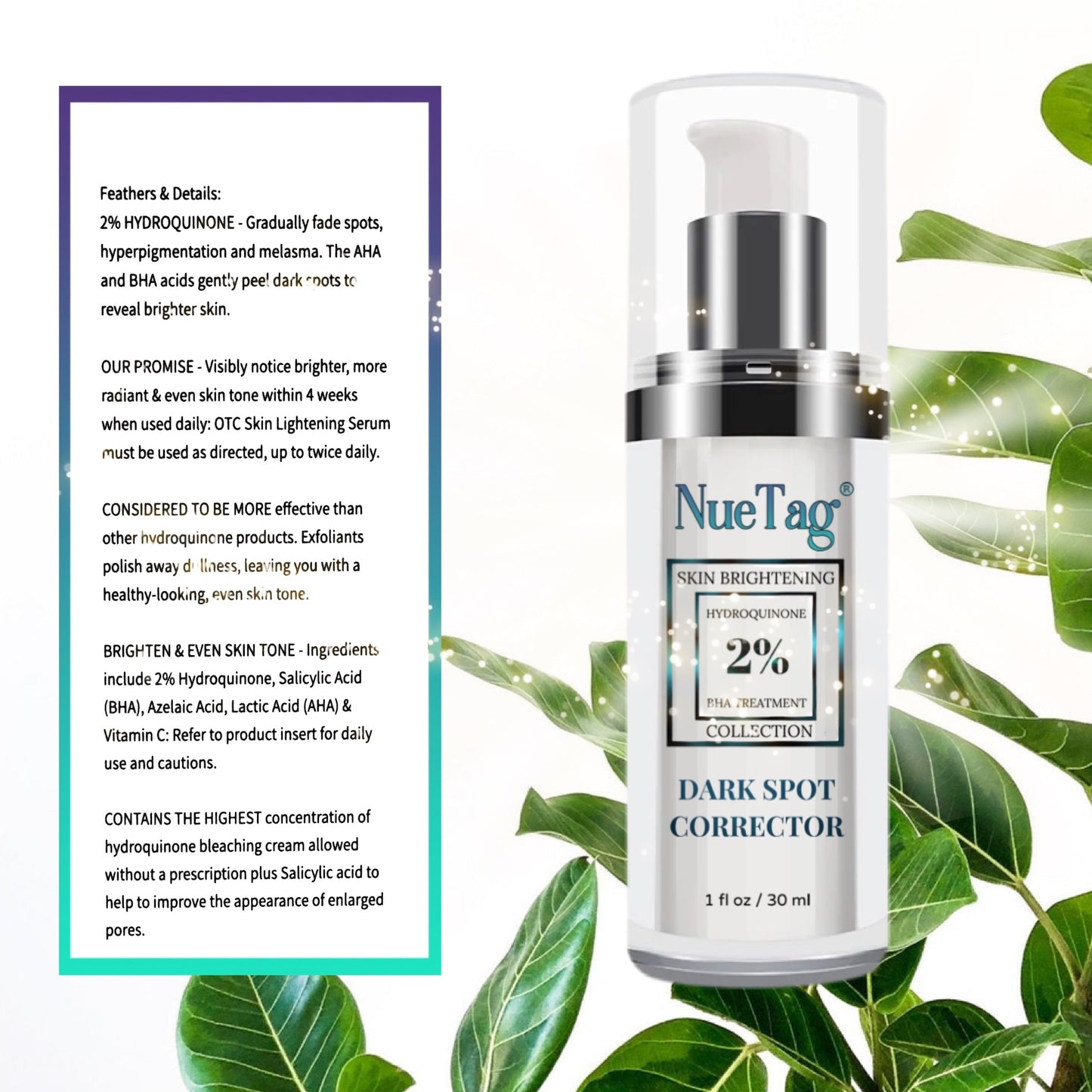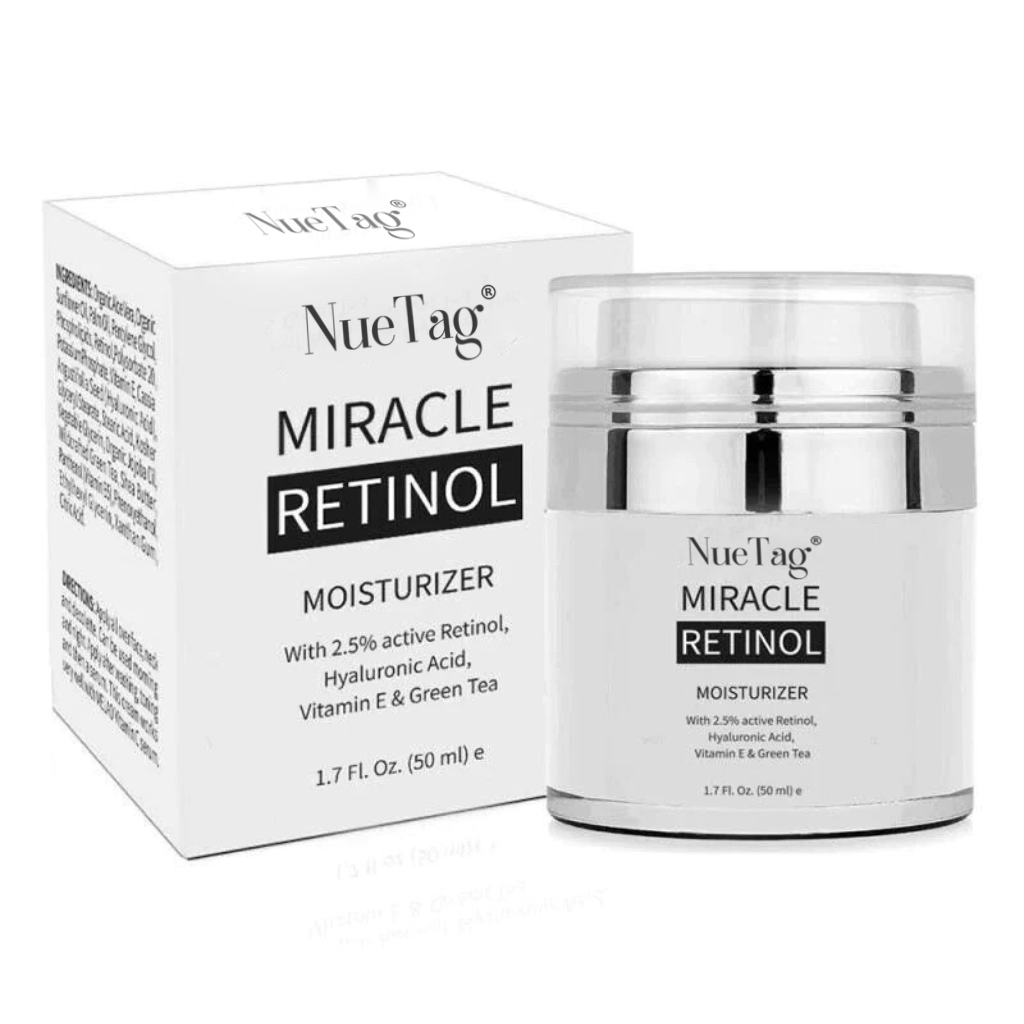 NueTag Dark Spots Remover Set
This has great ingredients to reduce hyperpigmentation.
This has great ingredients to reduce hyperpigmentation.
Day One: Skin felt softer and appeared brighter.
I have a lot of skin damage, so I thought I'd give this a shot, and it didn't disappoint. My skin felt softer after applying the night serum; normally, my skin is dry and tight in the morning, but this time it felt smooth and doughy. It was fantastic. So I applied the serum, on top of it the cream, and they went on smoothly, didn't stink, and gave my skin a nice little glow. Thus far, so good! I'm sure it'll take a few weeks for spots to lighten, but I'm looking forward to it.
I've been using it for a few days now, and my skin has already lightened significantly.
I just received the set, which was well-packaged. Excellent presentation. I applied the dark spot remover; it has no fragrance, and I like that it's very light; it won't leave my face greasy. I also like how the cream only pumps a small amount out at a time. I'm very pleased with the price; I believe I got a great deal.
It really makes a difference!
Realistic expectations. I have age spots as well as other spots and splotches on my face that have lightened significantly since using these products.